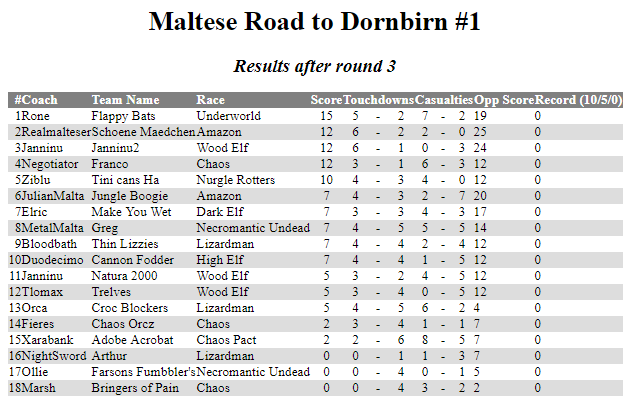 Rone leads his Flappy Bats to win the Maltese Road to Dornbirn #1 tournament. This is the first tournament in a six part series that will lead the Maltese contingent to the upcoming Blood Bowl World Cup that is going to be held in Dornbirn Austria, which will see 1500 participants battling it out to become the ultimate Blood Bowl masters.
Tournament results:
Most Net TDs – janninu
Best Defence – janninu
Most Casualties – xarabank
It was exciting throughout with many highlights:
i) Rone's first tournament win
ii) First tournament win for the Underworld
iii) Elric's excellent result for a first time participation
iv) Amazon renamed to "Roxanna and friends"
v) Negotiator's commendable result in 4th place!
Tournament in numbers:
18 players
27 games played
3 Chaos
3 Wood Elves
3 Lizardmen
2 Amazon
2 Necromantic Undead
1 Underworld
1 High Elf
1 Dark Elf
1 Nurgle
1 Chaos Pact
Finally a great thanks to Realm for hosting the event!