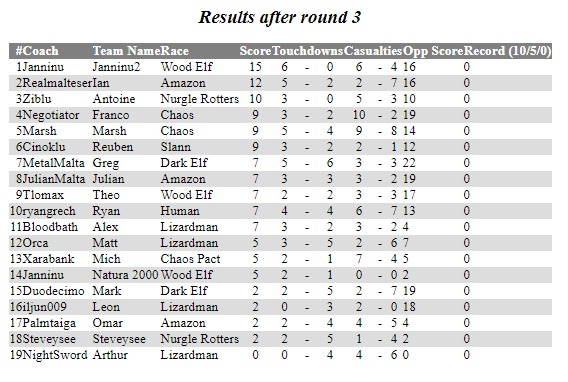 Janninu's wood elves dominate the round with the only three win player. Realmalteser follows closely with another 2 win 1 draw. In third place we have Ziblu whose performance has been tantalizingly dangerous with 2 wins, albeit with only 2 games played. We can't stop wondering how the result sheet would be had Ziblu played his third game.
Fourth, fifth and sixth places have been filled by the unexpected but enthusiastic performances of: the Negotiator who bags another fourth place in the series; Marsh's Bringers of pain finish a brilliant 5th who more than redeemed themselves after a disappointing first start in the series; and Cinoklu whose Slann have rocked the fundamentals of blood bowl science.
Tournament results:
Most Net TDs – Janninu
Best Defence – Janninu
Most Casualties – Negotiator
Best U18 – iljun009
Interesting highlights throughout the tournament:
i) First U18 trophy
ii) 3 new players – ryangrech, Steveysee and iljun009
Finally a great thanks to Malta Geek Paradise for hosting the event and for offering a unique Blood Bowl dice tower as a first prize for the tournament.

Bad start!

Better

…. in attack mode

Lucky or just opponent unlucky?

To roxanna or not to roxanna?